NICE releases the new DCV 2021.0 version with the following new features and improvements:
Webcam redirection for Windows Server – Customers can now use their local webcams with video conferencing or streaming applications running in a NICE DCV remote session.
Support for printer redirection on Linux Server – Customers can redirect print jobs from their DCV streaming session to a printer that is connected to their local computer.
Support for M1 Mac as client – NICE DCV Mac client can now run on Macs with M1 chips.
Multi-monitor support for Mac native client – Customers can use multiple monitors via their DCV Mac client.
NICE DCV Session Manager improvements – Session Manager now includes new APIs to describe servers, monitor server metrics such as CPU and memory utilization, enable capture session thumbnails, and limit the maximum number of sessions per server.
Improved support for G4ad instance type – Customers can now take advantage of GPU accelerated video encoding using AMD GPUs on Amazon EC2 G4ad instances for both Windows and Linux servers.
Added support for GPU accelerated video encoding using AMD GPUs on Amazon EC2 G4ad instances for Linux NICE DCV servers.
Optimized audio processing to reduce audio latency
Clients now default to the QUIC protocol if it is enabled on the server.
The DCV command line tool now has a get-screenshot command.
NICE DCV in the new version will default to the QUIC/UDP protocol in case enabled on the DCV server side and allowed by the firewall settings. Here the DCV client and server protocol configuration: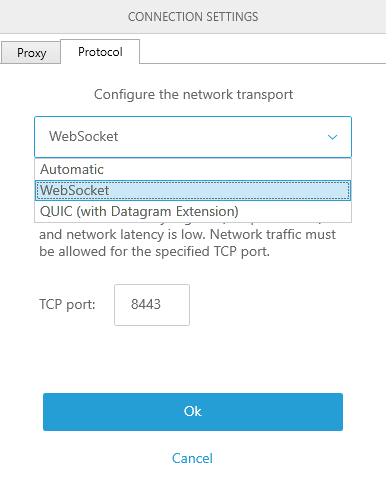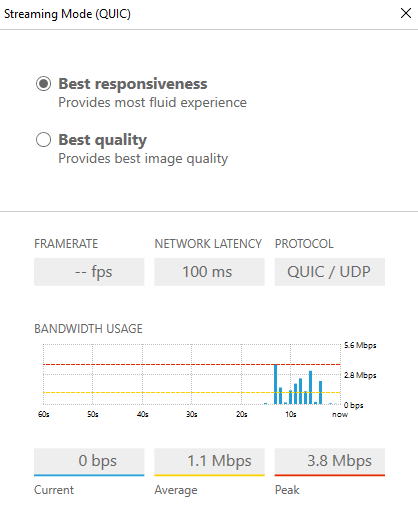 Here you can find the release information. You can easily try out NICE DCV on AWS by firing up one of our NI SP NICE DCV AMIs. The new DCV version will be supported soon.
The new version DCV 2021.0 is immediately available. Please read more about NICE DCV or find further background about DCV in our Technical Guides. Any question just let us know.