VOLKSWAGEN PASSENGER CARS USES NICE DCV FOR HIGH-PERFORMANCE 3D REMOTE VISUALIZATION
NI SP has worked with Volkswagen over the last years to leverage the potential of NICE DCV for remote 3D Linux desktop users with high-end demand for CAE delivered by NICE DCV:
"More than 1,000 automotive engineers in the Volkswagen Passenger Cars division rely on multiple computer-aided engineering (CAE) applications, running on high-end Linux workstations, for use in crash safety and noise vibration harshness simulations. "Our engineers need computers with strong performance to do their work effectively," says Gunther Mayer, IT specialist for research and development at Volkswagen Passenger Cars. For example, engineers create large simulations that show the noise created by air flowing over cars. These simulations often contain a terabyte of data. "For many years, supporting simulations that large was only possible sitting in front of high-end graphics workstations in our offices," says Mayer.


Read the full story: Volkswagen Passenger Cars Uses NICE DCV for High-Performance 3D Remote Visualization
RVX visual content studio uses NICE DCV to support remote artists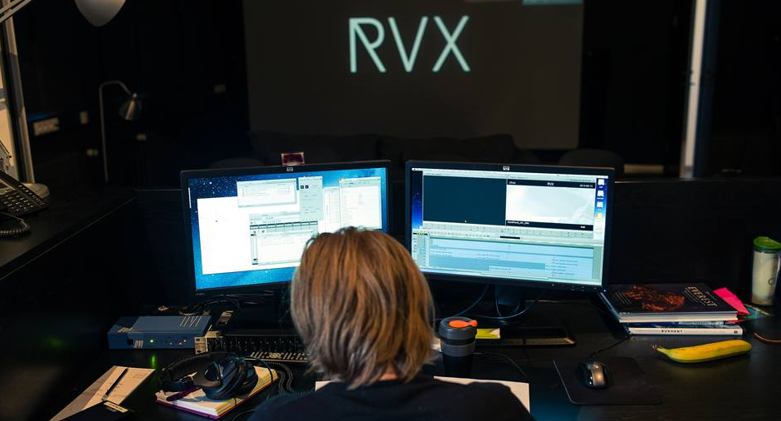 RVX provides a world class, award-winning visual content studio, specializing in visual effects (VFX) by supporting artists working remotely with NICE DCV. The studio was founded in 2008 with success on over 36 film, TV, video game, music video, advertising, augmented reality, and virtual reality projects. The RVX team is distributed across multiple locations in Europe. To accommodate this remote workforce, the company uses a high-performance remote display protocol to make co-located hardware feel like the artist's local machine. To achieve this local experience, RVX uses DCV. The RVX team has received guidance from its preferred partner, NI SP, to ensure it has the aligned architecture to meet business requirements.
Read the full story: RVX visual content studio uses NICE DCV to support remote artists
NETFLIX USES NICE DCV FOR THEIR ARTISTS REMOTE WORKSTATIONS
"In order to enable artists around the world, Netflix set out to build a VFX studio in the cloud, powered by NICE DCV, a high-performance remote display protocol developed by Amazon Web Services (AWS), that provides customers with a secure way to deliver remote desktops and application streaming from any cloud or data center to any device, over varying network conditions. Now Netflix artists and partners have access to flexible, secure, high-performing, and cost-effective virtual workstations on AWS that remove technological and geographic barriers for artists and give them creative freedom to collaborate on Netflix's VFX and animation content.

Read the full story: Netflix Uses NICE DCV on AWS to Build VFX Studio in the Cloud for Artists Globally. For much more detail on the Netflix workstation-on-demand approach: Create from Anywhere: The Netflix Workstations Story.
NICE DCV ENABLES VIRTUAL PRODUCTION REFERENCE ARCHITECTURE WITH EPIC GAMES' UNREAL ENGINE
NICE DCV offers high-end remote desktop access to Epic Games' Unreal Engine on AWS together with the Leostream broker.
"At Epic Games, we're excited to expand our partnership with Amazon Web Services beyond Games and into areas like Film and Television," said Rob Di Figlia, Business Development Manager at Epic Games. "Unreal Engine is helping drive a monumental shift in real-time technology, transforming the way visual effects and animated productions are being made. AWS cloud infrastructure is accelerating that change by making Unreal Engine accessible to the masses and empowering the next generation of creators."
Read the full article: Virtual production reference architecture with Epic Games' Unreal Engine
LG ELECTRONICS USES NICE DCV TO ACCELERATE PRODUCT DESIGN
The LGE case story highlights how NICE DCV is used for high-end remote desktop access to CAE applications at LG Electronics in South Korea supported by our reseller ISBC. ISBC has done a great job in successfully delivering a high performant cost effective NICE DCV and EnginFrame solution.
"With the help of ISBC, LGE built a proof of concept in 2013 and started the production service the following year. Using NICE DCV, LGE engineers can remotely access CAE software and supercomputing systems running in an on-premises data center, and these systems can interact seamlessly. ISBC helped LGE set up and use NICE DCV alongside the CAE software as well as customize NICE EnginFrame, which simplifies the process of setting up and running technical and scientific applications."

Read the full story: LG Electronics Uses NICE DCV to Accelerate Product Design with Remote Access to CAE Tools.
Other Selected NICE DCV Case Stories
Other Case Stories of customers leveraging NICE DCV high-end remote desktops:
HOW NICE DCV ENABLES DOOB 3D METAVERSES
doob Metaverses offer virtual interactive 3D meetings in a multitude of settings for remote users attending from everywhere. The seamless high-end experience is created with NICE DCV.
In our case story we describe the doob offering and how NICE DCV enables the live interactive high-end remote 3D experience: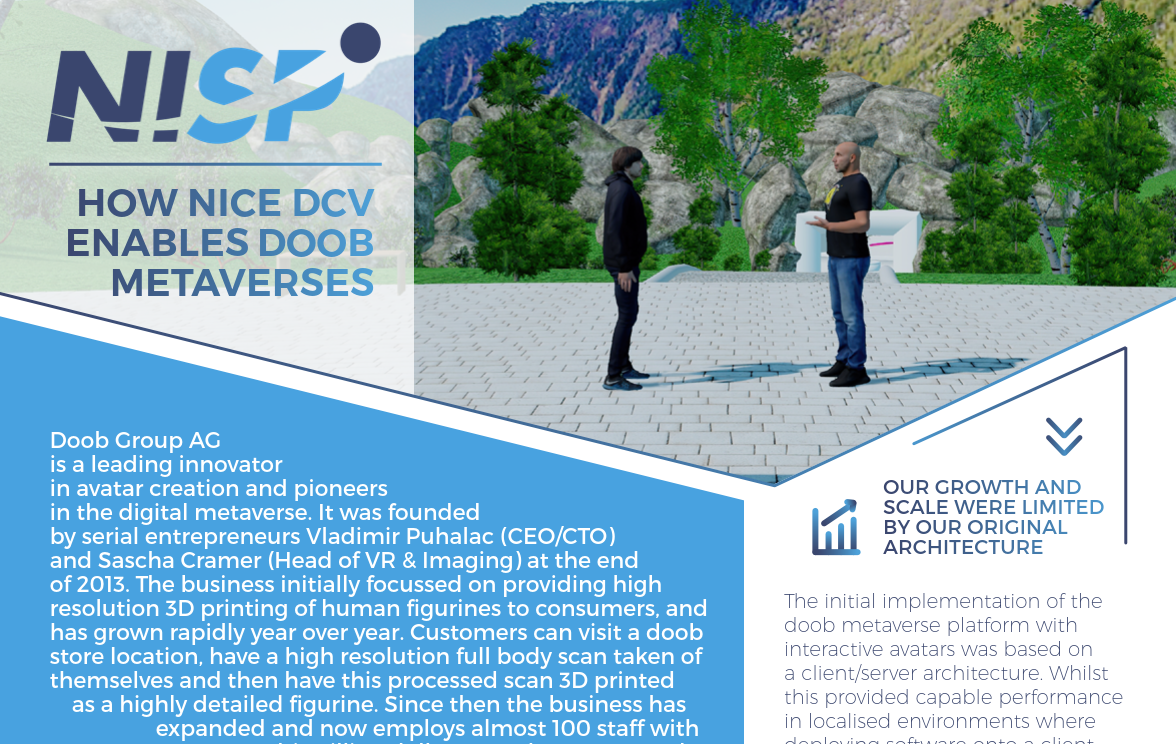 Listen in to our interview about the unique NICE DCV use case with doob CEO and Founder Vladimir Puhalac conducted with Terry Fisher and Karsten Gaier from NI SP GmbH. The interview was hosted via NICE DCV in a doob Metaverse in the cloud attending from multiple locations in Europe:
If you have any questions, comments or want to get a free trial please let us know!