The new EnginFrame 2021 version release includes the HPC Connector to simplify hybrid OnPrem/Cloud multi-cluster systems management. From the announcement:
HPC customers regularly tell us about their excitement when they're starting to use the cloud for the first time. In conversations, we always want to dig a bit deeper to find out how we can improve those initial experiences and deliver on the potential they see. Most often they've told us they need a simpler way to get started with migrating and bursting their workloads into the cloud.

Today we're introducing AWS HPC Connector, which is a new feature in NICE EnginFrame that allows customers to leverage managed HPC resources on AWS. With this release, EnginFrame provides a unified interface for administrators to make hybrid HPC resources available both on-premises and within AWS. It means highly specialized users like scientists and engineers can use EnginFrame's portal interface to run their important workflows without having to understand the detailed operation of infrastructure underneath. HPC is, after all, a tool used by humans. Their productivity is the real measure of success, and we think AWS HPC Connector will make a big difference to them."
The following architecture diagram shows an overview of the HPC Connector: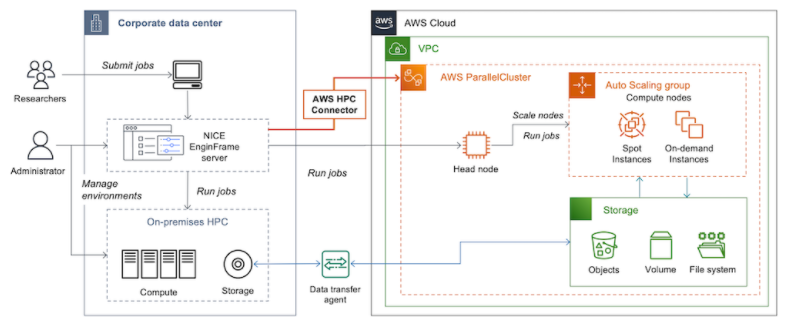 Read the full blog post at Introducing AWS HPC Connector for NICE EnginFrame including a guide how to use the HPC Connector.
Other enhancement of the new EnginFrame release cover:
New AWS HPC Connector plugin adds support for hybrid infrastructures enabling launch of HPC Applications on clusters created through ParallelCluster 3 using AWS resources
Metrics can now be published to external monitoring tools (such as Graphite, Grafana, CloudWatch) through StatsD
Read more about NICE EnginFrame or let us know if you have any questions.
Update 11.1.2022: More background on the EnginFrame HPC CloudConnector from AWS HPC Tech Shorts: